Join Hive Sisters Nicole Burke and Ariella Daly at the luscious Goldenwell Sanctuary in Vermont for a week of dream ceremony, collective hive dreaming and dream incubation woven with the golden-black threads of the Path of Pollen, a European Honey Bee tradition.
GOLDEN WELL SANCTUARY IS A 170 ACRE ORGANIC FARM, APIARY, HEALING CENTER, RETREAT AND EVENT SPACE DEVOTED TO RE-POTENTIATING OUR RELATIONSHIP WITH THE LIVING EARTH THROUGH CULTIVATING DEEPER AND MORE MEANINGFUL CONNECTIONS BETWEEN NATURE, SPIRIT, SELF AND COMMUNITY.
YOUR FACILITATORS
Nicole, Gina and Ariella became fast friends while attending a workshop in Bath, England in 2015. Since then they have worked closely together in a three year advanced shamanic training for women at the Sacred Trust in England. Ariella, Gina and Nicole bond over their mutual love of nature connection, community cultivation, beekeeping and dreamwork. A typical conversation on the phone between any two always involves a dream share. They are sisters in the work, facilitators of women's mysteries and fully committed to being change makers for the earth in changing times.
Nicole Haciba Burke has been working in the healing arts since 2006. She has formal training in Aikido, traditional Japanese Medicine and Acupressure, has completed an apprenticeship in Native American Shamanic Healing, and has been initiated into and deeply immersed in the Path of Pollen, an ancient tradition of European Honeybee Shamanism taught by Kate Shela, Naomi Lewis and Simon Buxton at the Sacred Trust in the U.K., for over a decade. In addition to her formal training, Nicole's dynamic approach to healing and ceremonial work is also inspired by her diverse cultural background and experiences as a mother, artist, designer, writer, organic vegetable farmer, beekeeper, and a world adventurer. She is the visionary behind, co-founder and steward of Golden Well Sanctuary in New Haven, Vermont where she facilitates monthly moonlodges, various ceremonies, apprenticeship programs and retreats.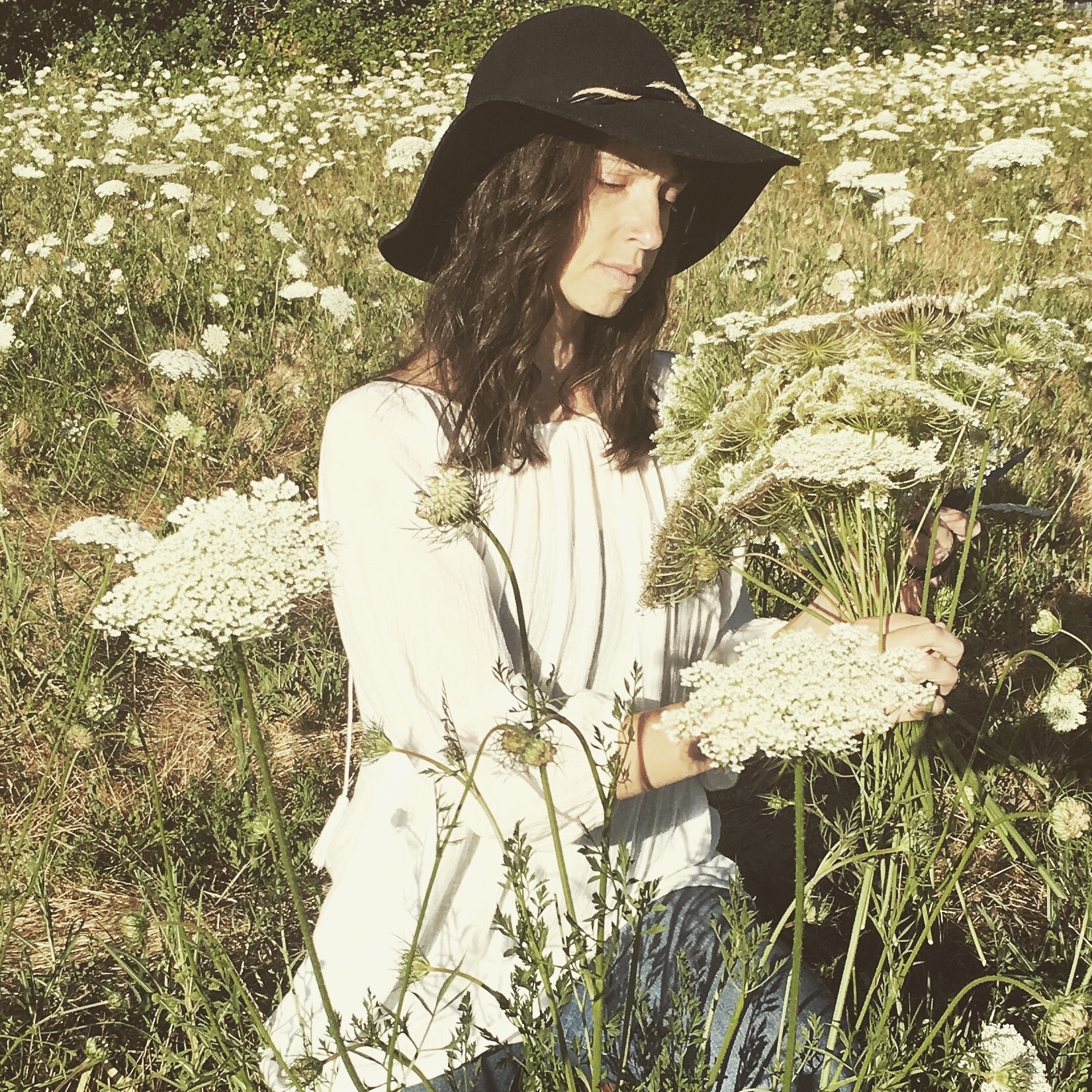 Ariella is a beekeeper, writer, teacher and musician living in Northern California. Her work with the bee came through a lifelong interest in human connection with the non-human world. Over the past 9 years she has studied extensively with Kate Shela and Naomi Lewis within the The Path of Pollen, a European shamanic honey bee tradition. Her work is a fusion of her love for the natural world and embodied, wombic practices cultivated through European bee shamanism. She teaching beekeeping, dream workshops, retreats and runs a women's beekeeping program.
Gina DeBernardo is a woman devoted to her love affair with life and all it's brilliant facets. Her work has brought her from the warm waters of Florida, to the rugged coast of California, from the tropical breezes of Mexico to the lush hills of England. She moves through life as a lover of the earth and it's people, practicing the embodiment of ecstasy in a pure, grounded form.
Gina is a skilled bodywork practitioner with over 18 years experience. She spent 6 years in San Francisco working with men, women and couples. Her work combines a unique blend of Biodynamic Craniosacral Therapy, Sacred Anointment, embodiment practices and shamanic modalities.